Another year, another gamescom and another great time for The Settlers.
We promised you a proper recap last week and don't want to let you wait any longer – so let's get started:
At gamescom 2019 we did a total of 10 presentations, showing new gameplay and features to anyone who joined us in the Ubisoft Lounge. Creative Director Volker Wertich also dropped in to answer questions and gather feedback from fans and players.
Further special guests were our The Settlers Star Players DerSpender, ZockerLounge and Aliestor.
Since we started every presentation with the new trailer, let's do the same here to get you into the right mood:
We also want to make you aware that all gameplay footage shown in this blog is from a pre-alpha version of the game. Many elements and features are not final yet and still work in progress – this is especially true for the user interface.
During out presentations we explained several elements of the Food and Stamina System in action, showing the different ways of acquiring all the ingredients for tasty dishes. Aside from the early game goods like fish and berries, a hunter and a ranch will provide your settlers with different kinds of meat from wild and domesticated animals while a farm provides vegetables, corn and wheat.
This of course meant sharing details about the animal system (which will receive its own, detailed blog later this year), for example regarding their different behaviors and uses as well as their impact on the environment around them.
We also explained the importance of roads as well as the production and use of carts, like this donkey cart here, which can carry up to 5 goods at the same time.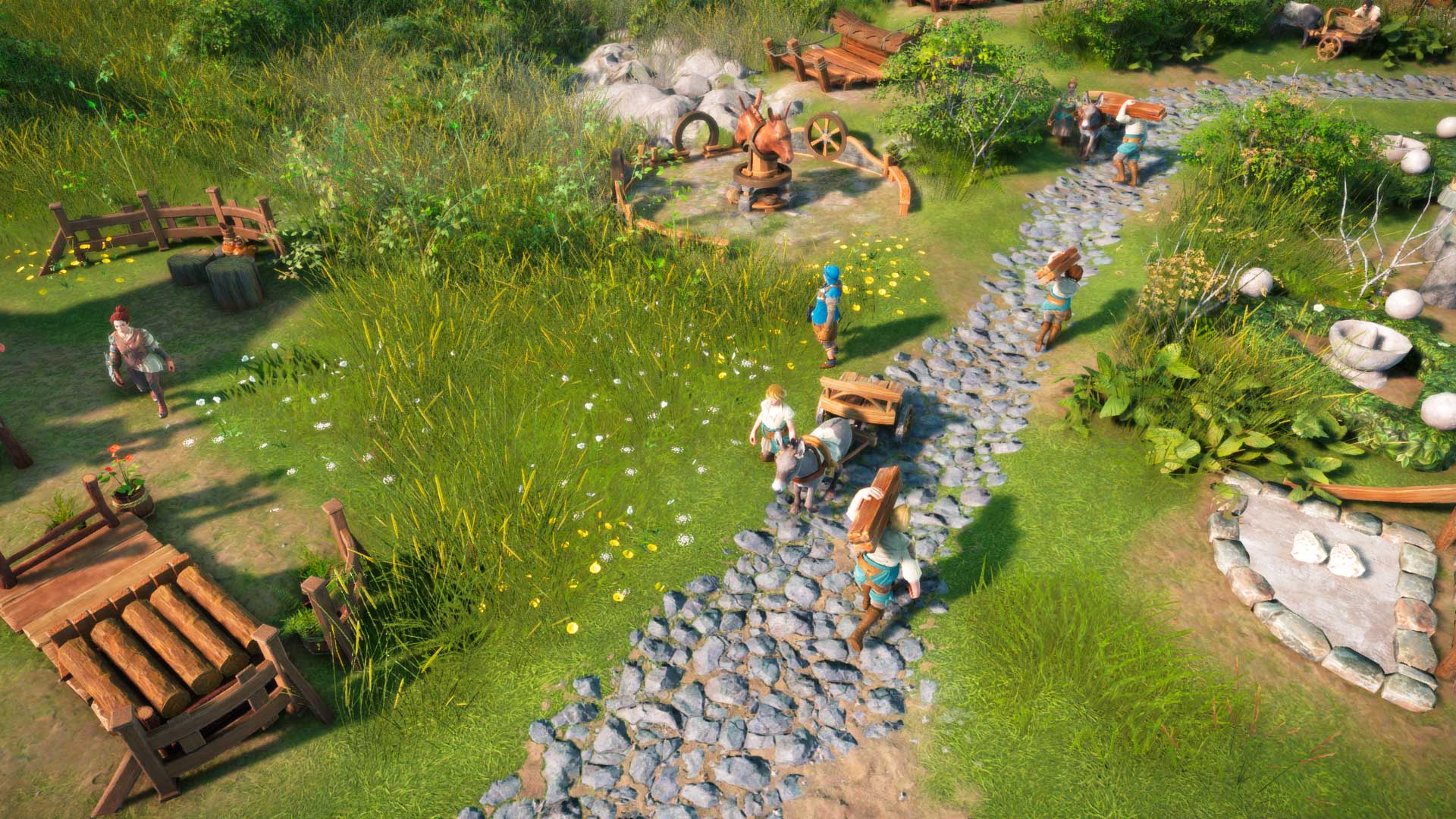 In between we showed several different stages of our settlement:
While we started out small with this outpost…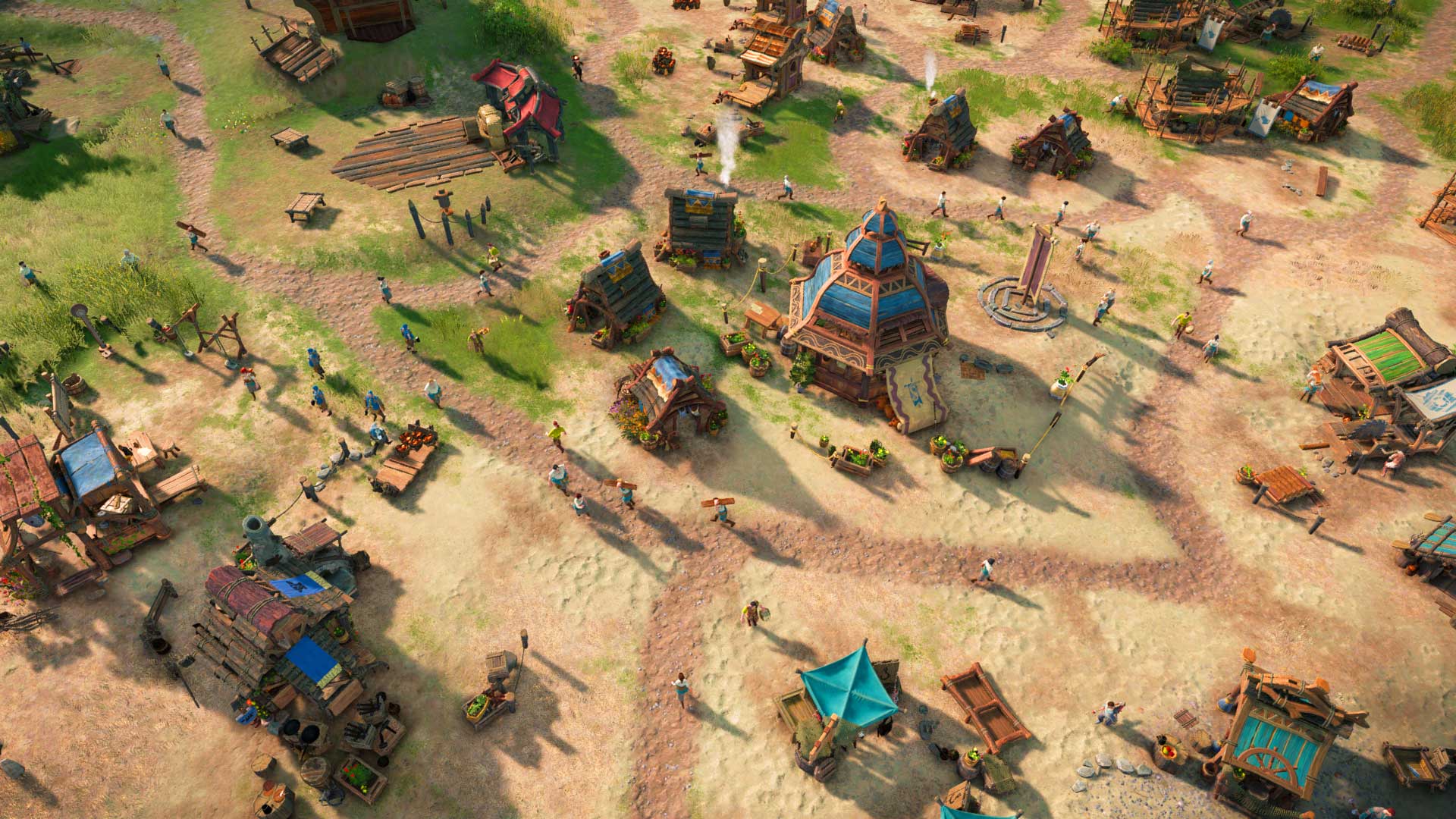 … we soon expanded and started recruiting more workers to keep up with the increasing demand in resources…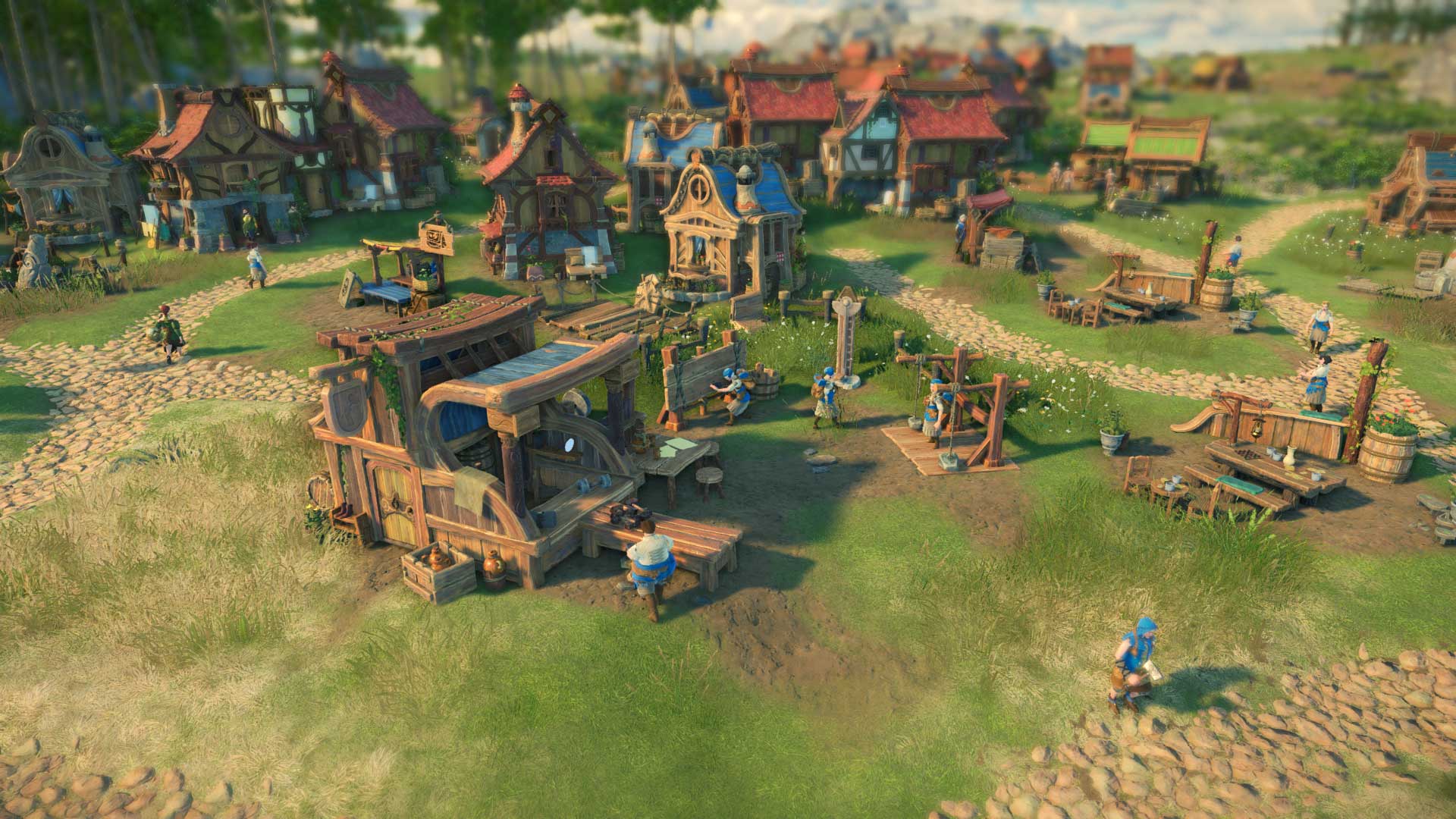 … and finally ended up with a huge settlement with many settlers and a flourishing economy.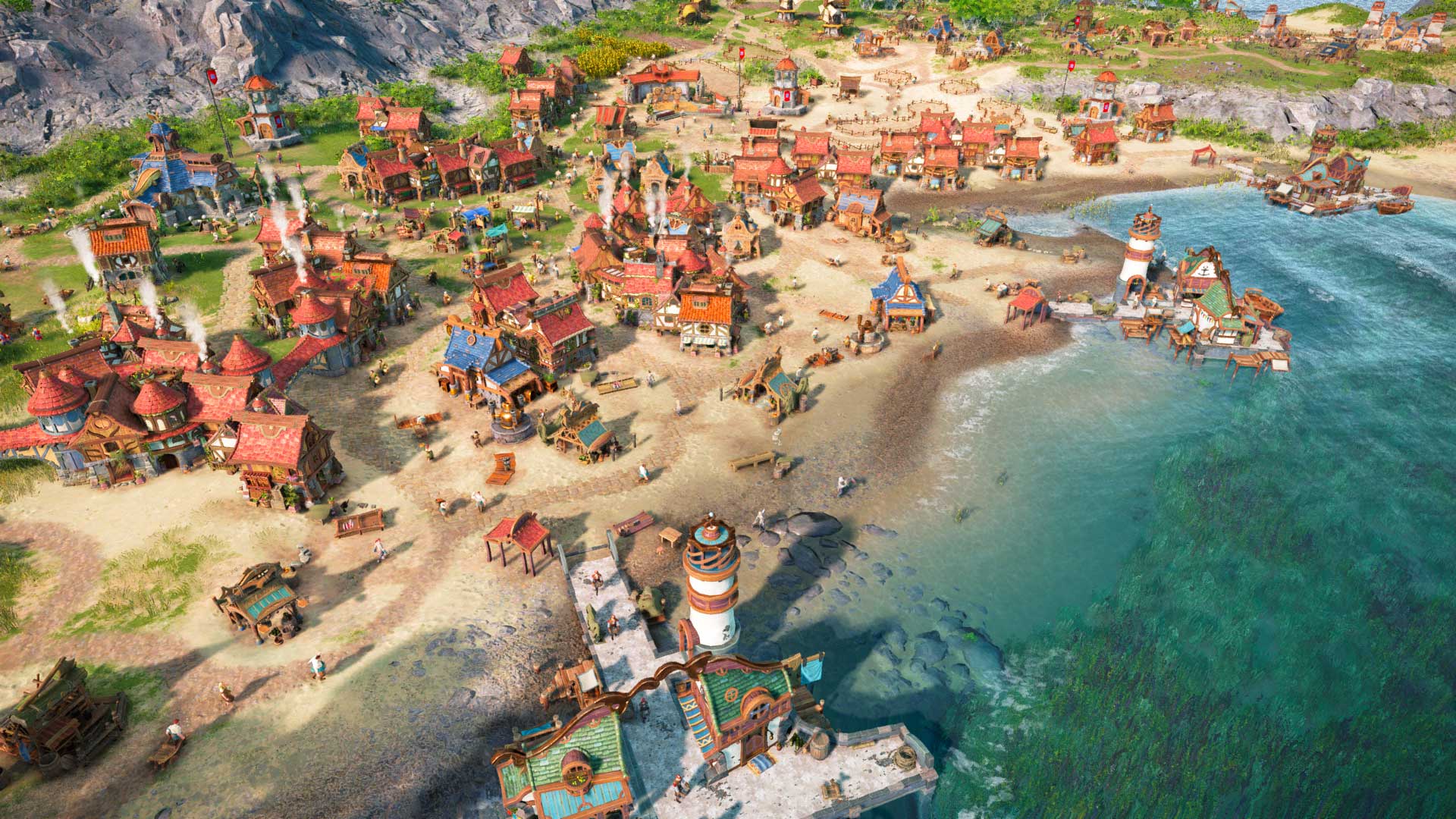 Part two of our presentation was a first detailed look at the "Path of Glory" victory method.
In addition to the straightforward military way, The Settlers offers alternative victory methods to win the day. These require us to invest our resources in a different way and adjust our economy and planning.
With Path of Glory we recruit a hero and train him in the Heroes' Retreat.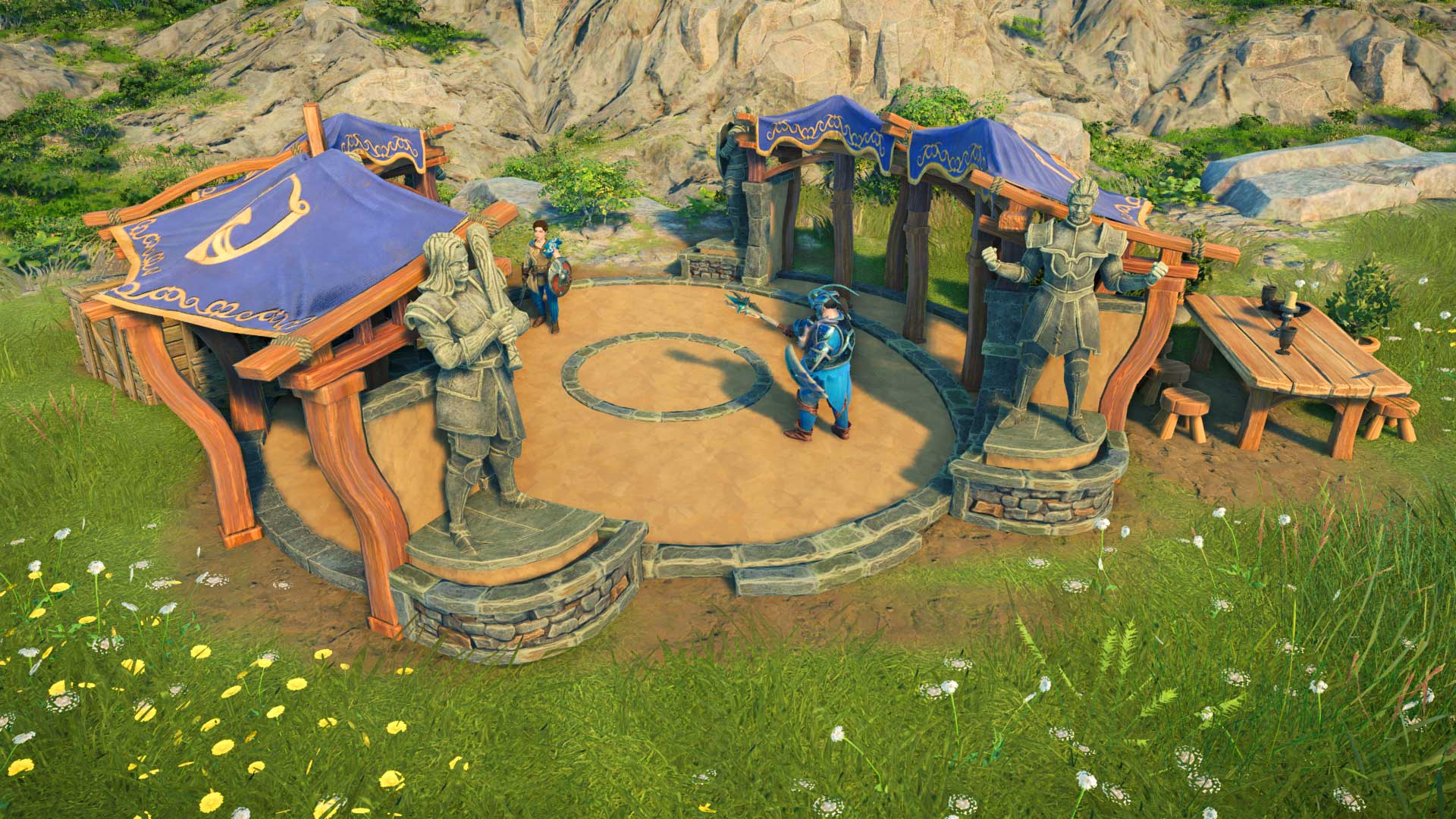 We also need an arena which requires a lot of resources and space. If we think we're ready we can challenge the enemy to a showfight by selecting which part of his territory we want to fight over.
Now our two heralds will go and gather settlers from the enemy and our own settlement to fill the audience ranks. We need to keep in mind that these settlers won't be able to work while watching the fight, so our economy should be stable and enough supplies available.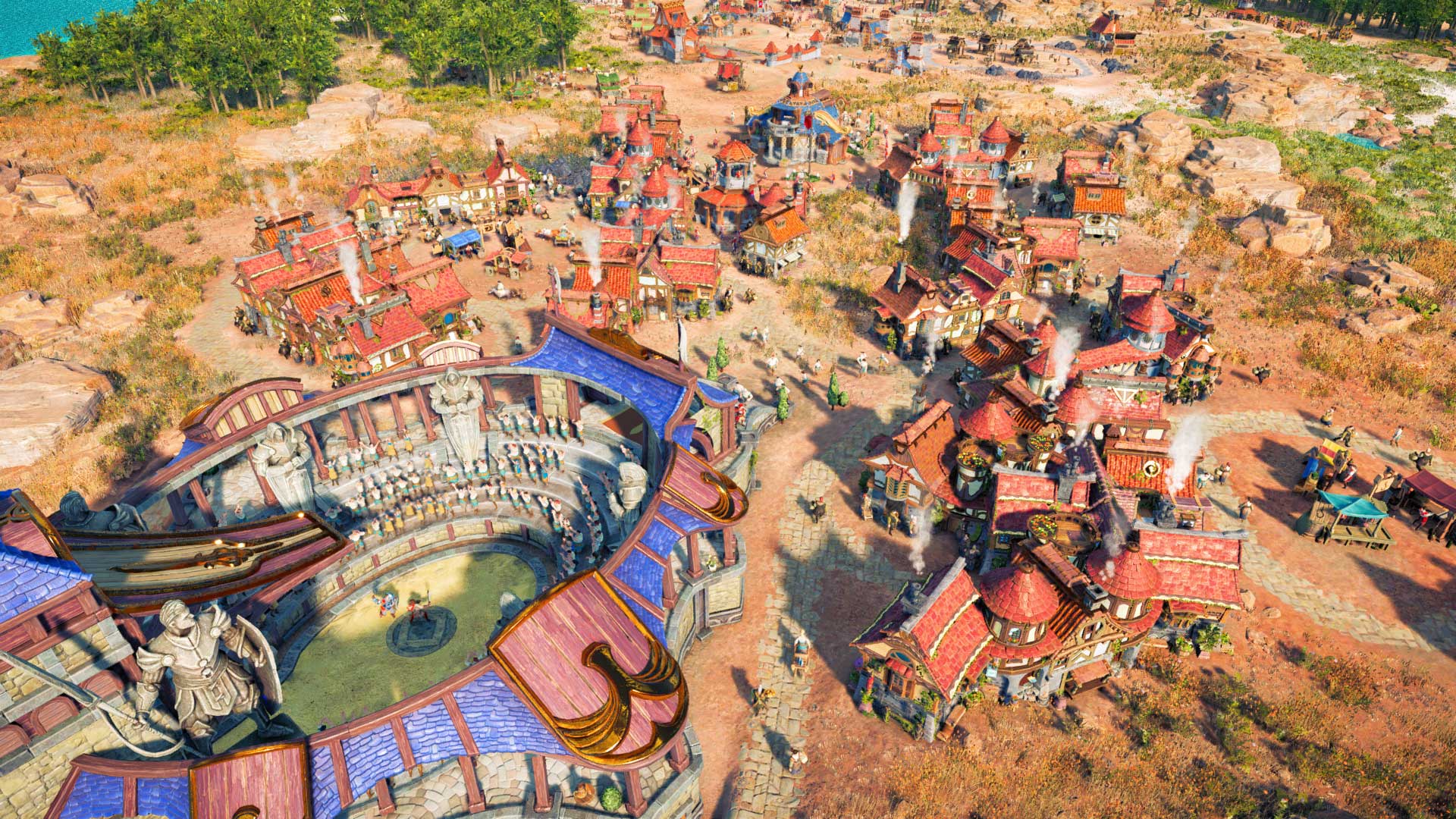 If we win the duel, our settlers are happy. Their trust in our leadership has been strengthened.
The enemy's settlers, however, will lose trust in their leader's abilities. They will return home and start protesting, voicing their discontent. This dissatisfaction can spread like a plague if the enemy doesn't start working against it.
At some point, all settlers in the affected territory will start a revolt, stop working and start walking around with pitchforks. The leader of the revolt will then take down the banner of the nearest keep and hoist ours instead.
Now all buildings and settlers in this area will work for us instead, greatly strengthening our economy.
If we had conquered the territory with our soldiers, all buildings except for the keep would've been destroyed and all enemy settlers would've fled.
Part of our gamescom announcement also was the delay to 2020, to make sure we deliver the very best The Settlers experience at release. We also revealed all the different The Settlers game editions which are available for pre-order now.
We had a great time at gamescom and are going back to work with valuable feedback and suggestions we received from you in the Q&As after each session. Since we have already shared some impressions from the convention, make sure to share your own with us on social media if you haven't done so already!
Looking forward at what's to come in the near future, we got several things planned for the coming weeks:
We will provide you with more detailed insights into both the Animal System as well as the Path of Glory which we summarized above. On top of that we have several more blogs planned and maybe a few surprises along the way.
Stay tuned, share your gamescom 2019 experience in the comments and feel free to ask any pressing questions you might have.
Thank you all very much for your continuous support!
3 Comments