Welcome to Community Update number 3! This was the big month for the History Editions and a lot of stuff happened, let's recap and make sure you didn't miss out on anything.
After that, considering the History Editions are now released and you're all probably busy playing, we let you know where you can find more maps for the The Settlers games and even provide you with some custom made ones!
And finally we have a cool announcement for you regarding our December event starting soon.
Sounds good? Let's start.
HISTORY EDITION STREAM & GUIDES
For your entertainment and to get into the right "The Settlers mood" the community team did a few streams of the History Editions and provided you with handy guides to The Settlers 1 to 3.
And just as a small teaser:
In three days time, on November 30th, Ubi-Barbalatu and Ubi-Thorlof will join Lionking1982 and DerSpenderTV in the evening for a The Settlers multiplayer stream. Tune in for some fun in a relaxed atmosphere, but please note: This stream will be in German only.
THE SETTLERS BATTLE
Over the last two months we pitted the games of the The Settlers series against each other to find out which game is the community's favourite. While we know all games of the series have their fans and some are just too different to be compared directly, we still were curious about the results, to see what our community would make of this with the release of the History Collection just around the corner.
Some results we mostly expected, but the semi-finals and then of course the finals were a rather exciting matter.
Now we can announce that The Settlers III won this competition with 201 to 194 votes across all our Facebook pages! That was a close on. Congratulations!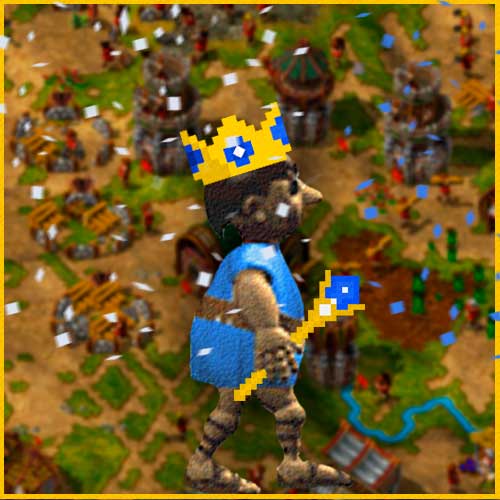 As we already mentioned we have an event announcement for you. From December 1st to December 24th we're going to ask you some The Settles trivia questions. This will happen over on our three Facebook pages (English, German and French) and each day we will pick a winner for some cool prizes.
The question will be posted at 12PM (CET) and you have till 11:59AM (CET) the following day to comment. After that a winner will be randomly chosen from all participants across all 3 Facebook pages and contacted by our community team.
Sounds good? Sounds exciting? Then make sure to not miss the 1st of December!
MORE MAPS, WHO NEEDS MORE MAPS?
The map editor is a beloved tool which was used to create hundreds of new maps for several of The Settlers games. For The Settlers 2, Ubi-Barbalatu already created one special map titled "Thorlof-Troll" which Ubi-Thorlof and Ubi-Guddy then played live on the stream mentioned earlier. You can download it here. Since then we have been busy and created two more The Settlers 2 maps for you, so feel free to download them and try them for yourself:
And if that's still not enough, check out the two big community map websites Siedler Maps (German and English) and Siedelwood (German only). You'll find plenty of new and exciting maps there for almost all games of the series.

With the History Editions now released, we're looking forward to hearing your The Settlers stories. We're sure you have plenty of new ones to share.
Also, be prepared for two new blogs about the new The Settlers now in December after "History Edition November" is over.
And if you got an amazing community project you want to introduce to us, are working on magical The Settlers videos or creating some really cool new maps for any of the The Settlers games then mail us at thesettlers-community@ubisoft.com and we'll feature you in our next blog.