Last week we talked about the population system and how you get new settlers. Sometimes those settlers are not busy and this is where Direct Actions come into place – another new feature in the new The Settlers game.
Please keep in mind that this feature is in an early stage, we are experimenting with it and there may be changes in the future.
What are Direct Actions?
Direct Actions are initiated by the player to temporarily boost production buildings or resource gathering.
In order to execute Direct Actions we will need an idle carrier and motivation points.
How do we get Motivation Points?
In a perfect The Settlers world all of your carriers are busy and have something to do. But reality is sometimes different. You probably have carriers who are idle and waiting for their next task. While they rest those idle carriers will generate motivation points automatically. These motivation points are an extra reserve, which can be used at any point needed.
If we have idle carriers and motivation points, we can perform Direct Actions to boost our economy. There are multiple ways to do so.
How to perform Direct Actions?
Resource gathering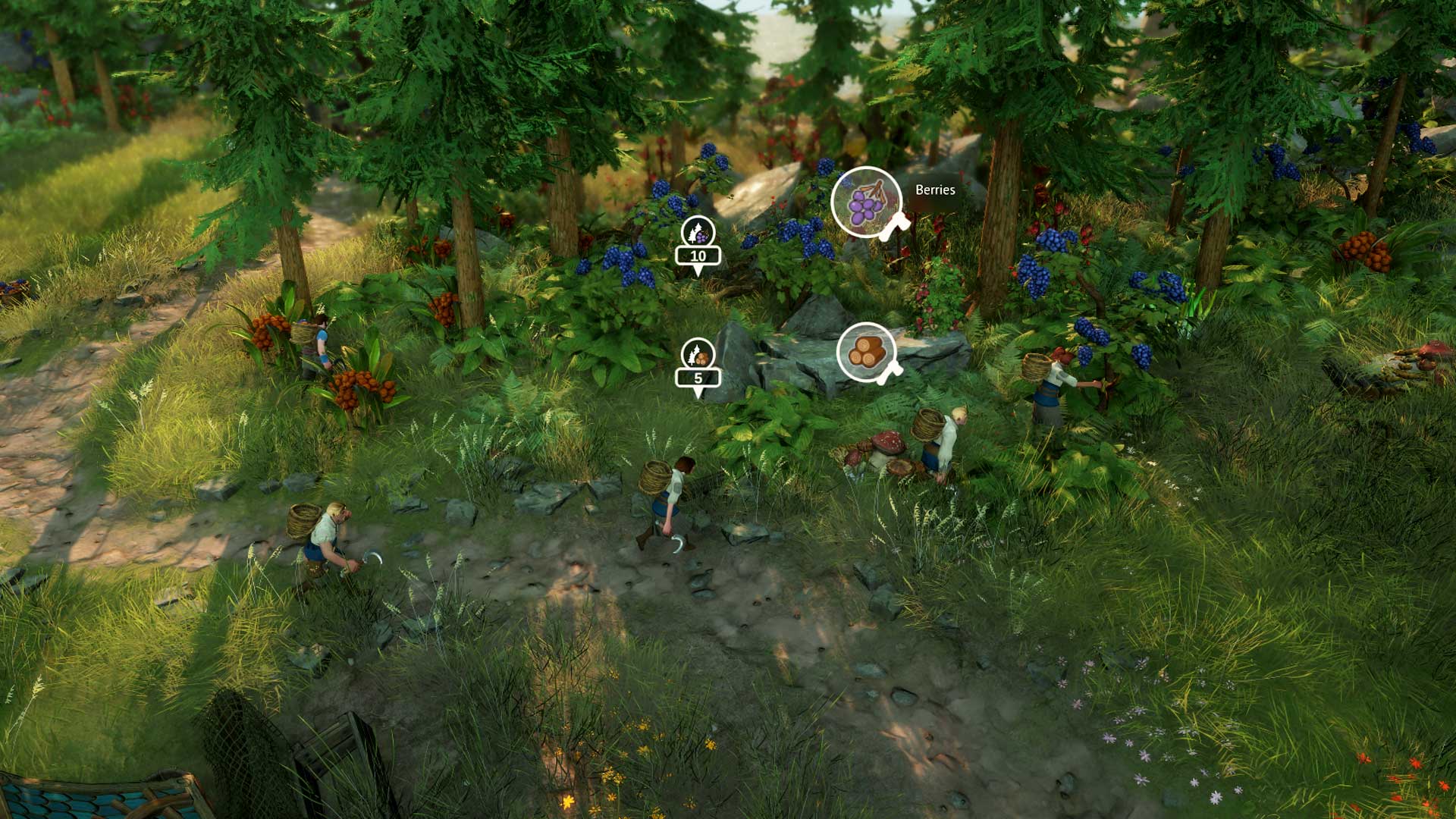 Direct Actions can be performed on forest areas, copper, stone or coal deposits or any other area where you can harvest / mine goods. Simply click on the resource you want to gather and execute the Direct Actions. Every Direct Action will use one motivation point and requires one idle carrier.
You are low on wood? Simply click on your forest and let you carriers help your woodcutters by chopping down more trees. Forgot to build a gatherer hut and your workers are hungry? Send your carriers to collect some berries.
As long as you have enough motivation points and free carriers you can send them to do those extra little tasks for you.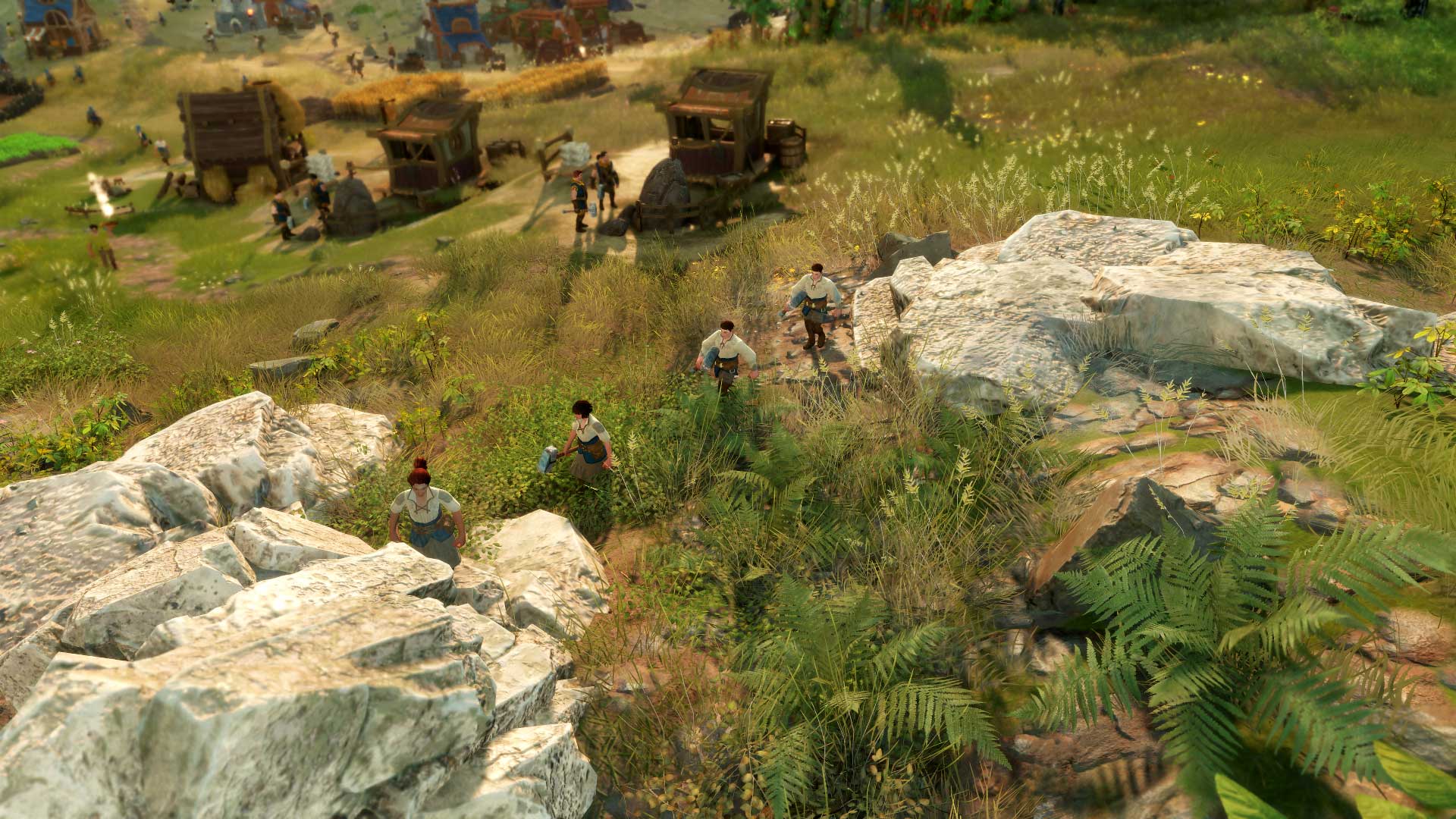 By using Direct Actions you can avoid bottlenecks or ensure your production chains have additional goods.
Productions:
You can also temporarily boost your productions by using Direct Actions. Since the production of a good is divided into several stages, you can simply send carriers to help the craftsmen working at the buildings!
As an example let's take a look at the smelter. The production is divided into several phases. One worker uses the coal to heat up the furnace and his/her colleague adds iron ore. Once this step has been completed they will make their way over to the mould. One will put the hot iron bar into the cold water, while the other one waits until it is cold enough to put it on the output pile.
If you now want to boost your production, you send your carriers over to help with the smelting process temporarily with the help Direct Actions. Since they are not trained for the main job, they will only handle the transportation phases. Meaning: They will carry the coal and iron ore to the furnace and transport the iron bar to the output pile. This makes the whole production more efficient and faster.
Each building has a different number of additional carriers who are able to help if you boost your production with Direct Actions. It is completely up to you (and of course the number of Motivation Points and idle carriers available at this time) how many carriers should help up to the allowed maximum of the specific building in this process.
So, we showed carriers are not only useful when transporting materials and goods from one place to another. Even when they are not doing anything, they will generate motivations points, which you can use to your advantage. Never underestimate the carriers 🙂

How will you use your idle carriers? Temporarily boosting your production or gathering resources? What do you think about the system? We are also considering other ways to use direct actions in the game, do you have any ideas about that too? Let us know in the comments below.
2 Comments