If you follow our social channels you might have already learned about our new "Stamina and Food System". If not, why not come and follow us on Facebook & Twitter for more info like that in the future.
Even though we covered the basics we want to dive deeper into the matter and give as much details as possible. Where do we start?
The beginning:
When we build a new settlement, we begin with the most basic buildings.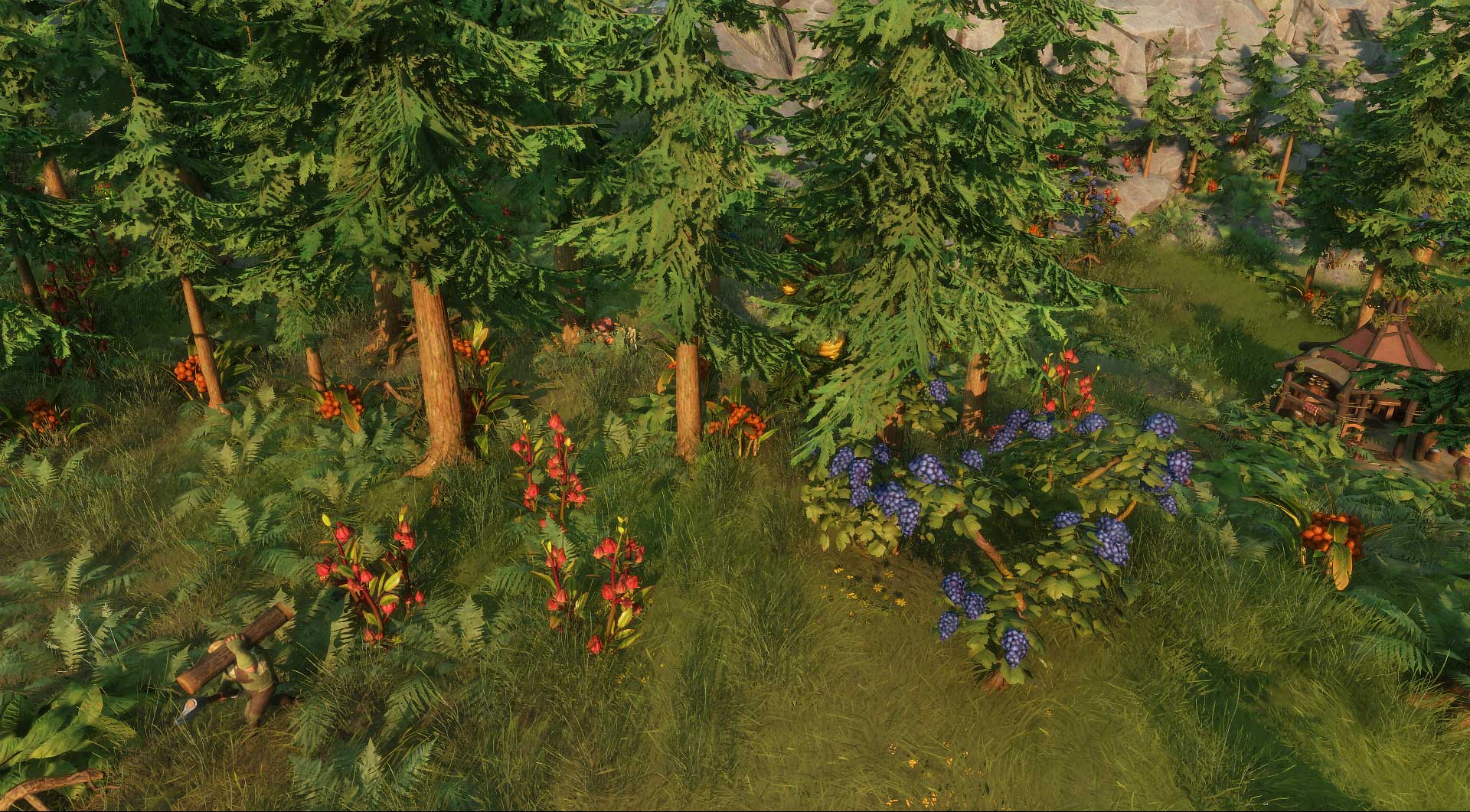 With "What you see is what you get" we learned that we see everything in the world. We see multiple forests, berries, and if we pay close attention even fish near the coast.
We started our outpost by building several woodcutter, gatherer and fisher huts. The last two buildings usually make up our basic food supply.
This will only fulfill their own needs and our woodcutters will get hungry and stop working, because they need cooked meals. It is easily visible for us: The worker sits in front of the building, waiting for food.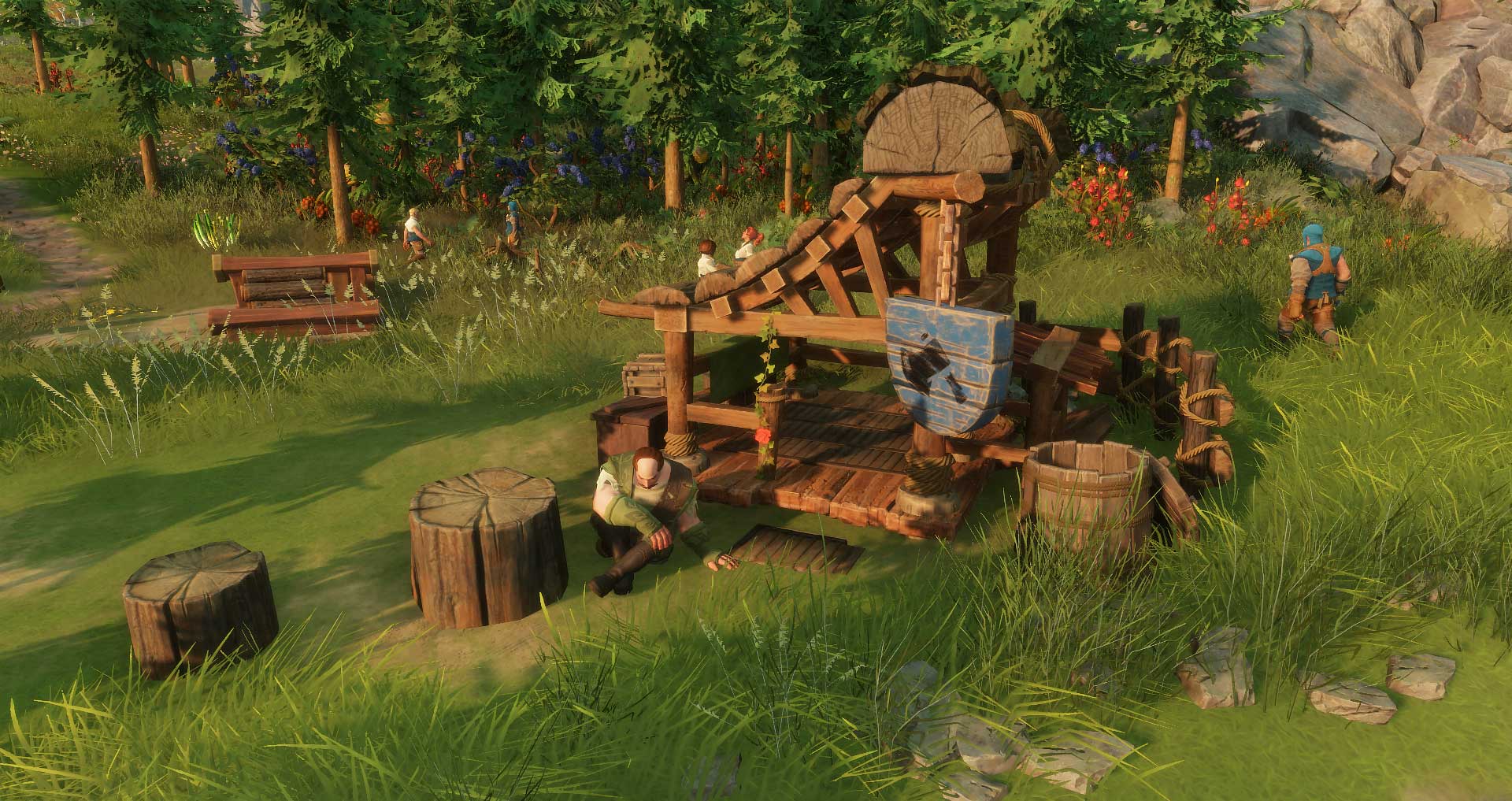 We need to place some houses.
Houses:
In the new The settlers the primary use of houses is to make sure to cook and deliver meals to ensure that all of our workers are fed and have full stamina.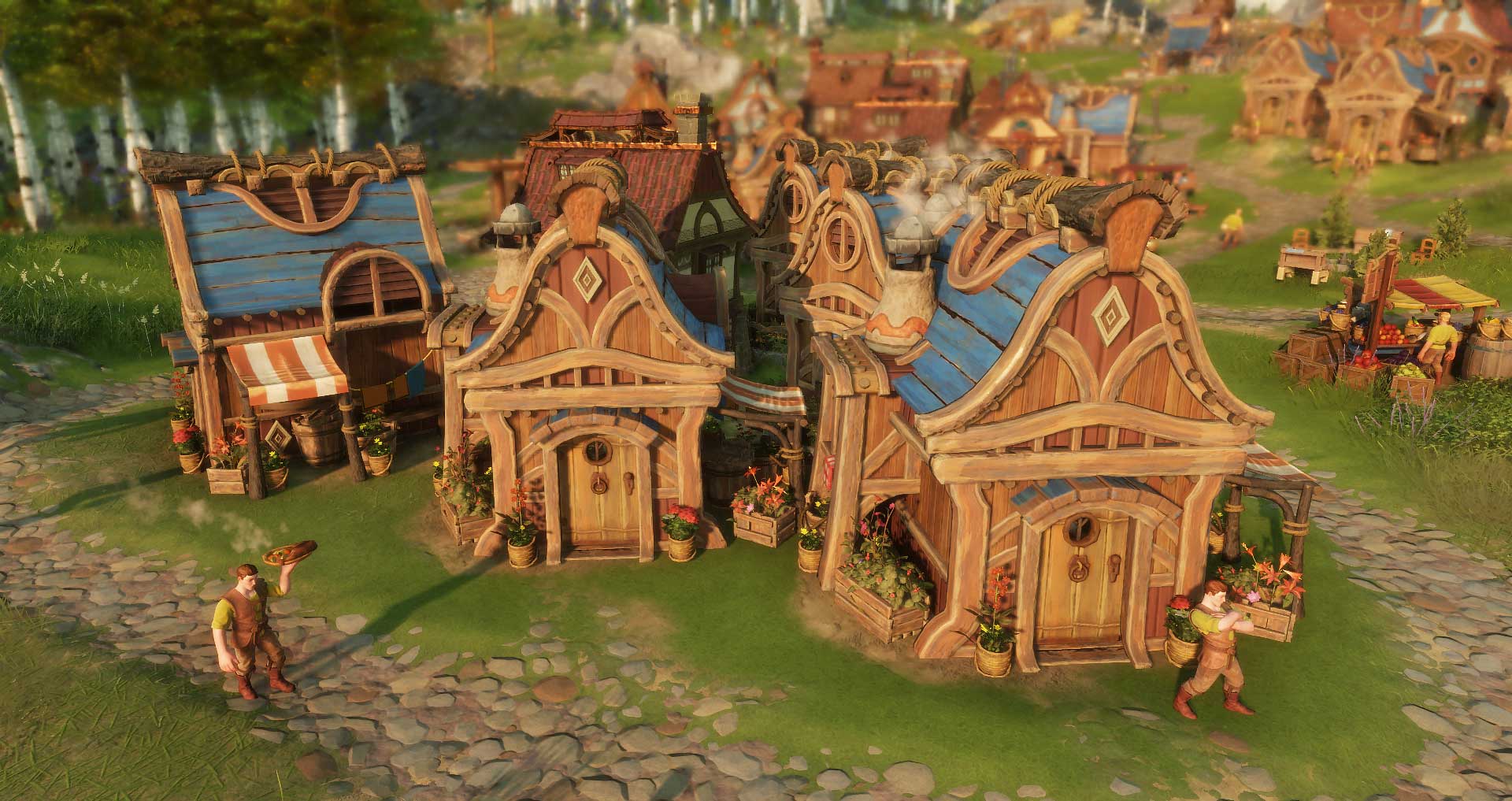 By building some houses, we have created a "small" food production chain. The fisher will catch delicious fish and the residents can pick up this fish from the fisher hut directly. The residents will go back to their houses and start cooking a tasty meal. The cooking process is under way if you see white smoke from the chimney.
This whole process takes a bit of time, but once the cooking is done our residents will deliver the meal to different work places.
If the worker has no stamina left, they wait in front of their building. Once the residents delivers the food, they will make their way to their own little designated eating place, consume the meal, regain stamina and go back to work. In case they are still out in the field working hard, they will find the hot meal when they are coming back.
But what happens if the fisher and the gatherer get hungry themselves and do not receive any cooked meals at the moment? The fisher, the gatherer and also the hunter will eat their own collected or caught food (anyone up for sushi or carpaccio?) to ensure that they can keep working. However, since the food has not been turned into a tasty meal by a resident, it only deliver half the stamina.
Market stalls:
As we are always on the lookout to make our economy more efficient. It is time to talk about market stalls.
Market stalls are places where specific food is stored and available for the residents to collect. We will have different market stalls in the game. This will make it easier for us to plan and organize. It would not make any sense to have a fish market stall where no fish is around. Of course, we could still place it, but remember what we have learned in the transportation blog: The distance might be too long for our carriers and it could create traffic jams or bottlenecks.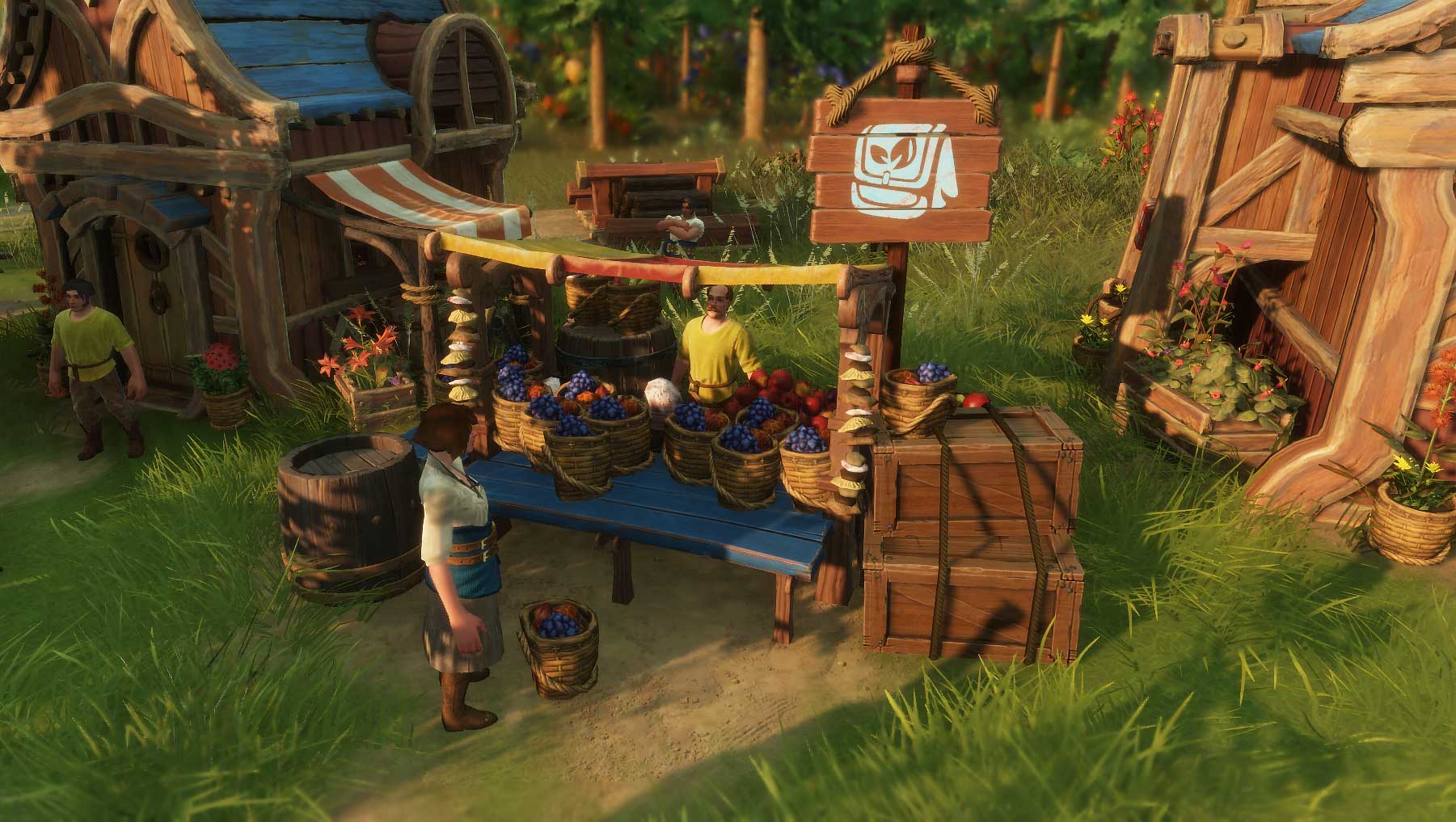 We placed a market stall for our fish and for our forest products, in this case berries. Our carriers will make sure that the goods from the fisher and gatherer are transported to those stalls. This makes the walking distances for our residents shorter and they can supply food faster for our hard working craftsmen.
Mid / Late game:
How does it look when we advance further in the game?
The more we progress with our settlement the more buildings we unlock. We can also upgrade them and this includes houses. We will explain details about the upgrade system in a later blog post.
The first step would be to provide more and different food to our workers. One classic production chain consists of wheat farm, windmill and bakery. We want to use those wide and nice grasslands to have an efficient bread production, by placing enough farms.
Farms can also harvest corn and since our bread production works perfectly, we will need new market stalls, for bread and corn.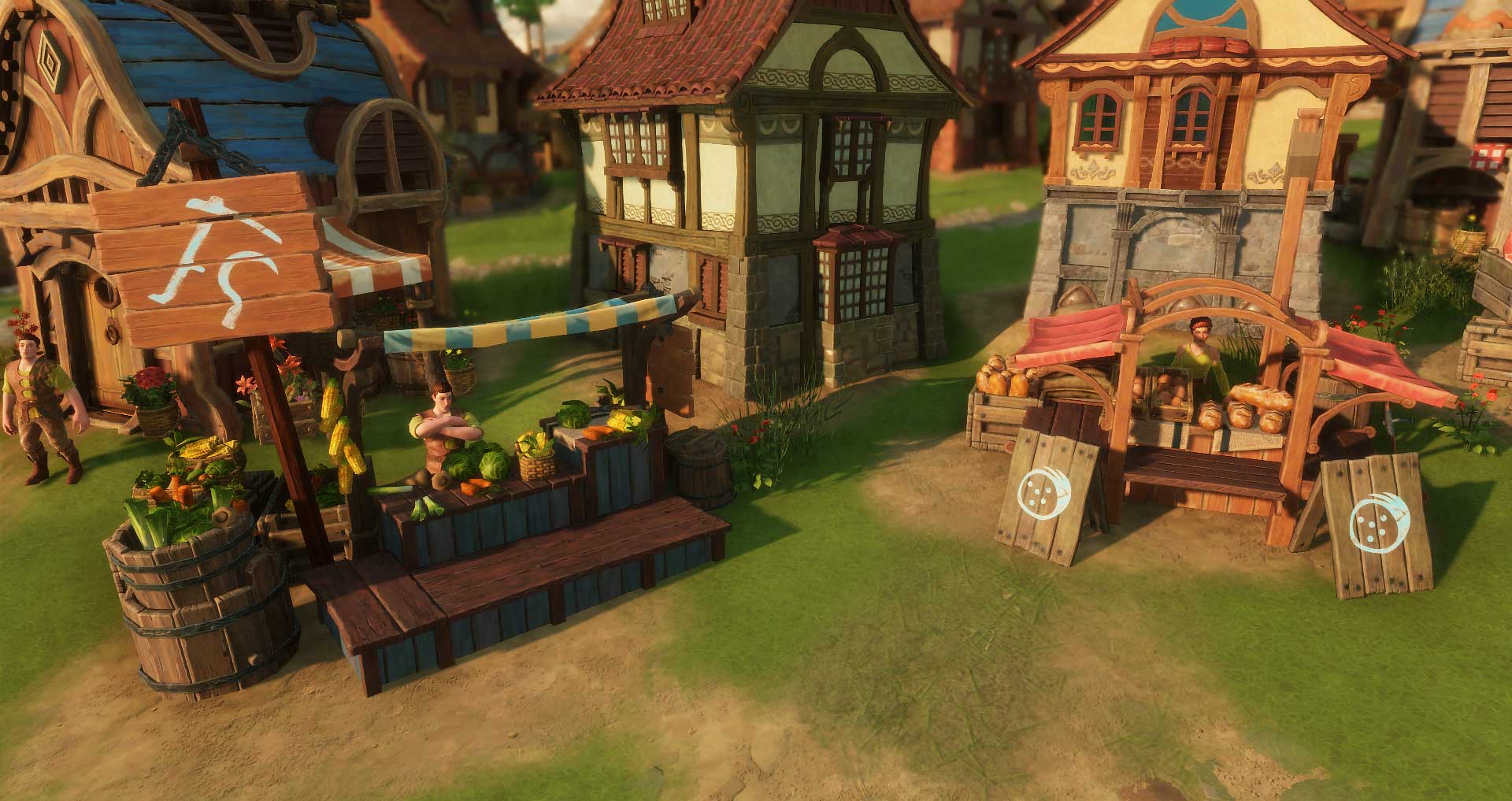 We now can provide our residents with different food, but the real deal would be to provide them with better food. Upgrading the houses will make this possible. Better houses will unlock more advanced recipes to create delicious meals that deliver more stamina, which means the citizens will need to supply each craftsmen less often. As a result, the residents can supply meals to more craftsmen.
Make sure to have houses close to major production chains as residents will not travel endlessly, to either get their ingredients or to deliver the meal to a work place.
If you think that you need food only to provide your workers with meals and keep your stamina up, this is far from it. Food will have other usages too, but we will talk about it in another dev blog.

That was our introduction to the new "Stamina and Food System". What do you think? Do you like the change? Can you already imagine a nice and bustling marketplace with houses around? Feel free to share your thoughts in the comments below.
12 Comments