Hello everyone and welcome to another community update!
Since our last one some time has passed and we revealed a lot more awesome details about The Settlers. But the coming month will be all about the "The Settlers History Editions" – and some members of the community have already been actively creating nostalgic content.
VIDEO CREATORS AND STREAMERS
The release of the "The Settlers 1 History Edition" led to a spike in streams, and we want to highlight a few of them here. We had derspendertv and lionking1982 both diving into the game that started this franchise and after a little bit of time to get used to the controls (and learning the buildings) they started to really enjoy the old-school vibes of The Settlers 1. Check out their channels – but be warned, it's German 😉
For everyone enjoying some The Settlers 3 multiplayer action, make sure to visit mrblues3 and suma3333 or watch the VODs on their channels. They're both using the great community tool aLobby for finding opponents to play with, as you can see. For the History Edition we'll bring back an easier way for multiplayer: You can easily start and find matches via Uplay and invite your friends.
Aside from streamers, there are of course also several guys creating videos on YouTube. The focus here mainly is on the campaigns and less on multiplayer, so if you want to want to follow Zockerlounge's Trojan adventures in The Settlers IV (in German) or Aliestor's Roman conquests in The Settlers III, head on over to their channels. Maybe their videos will also provide you with valuable tips and tricks for your own playthrough.
And on top of that, GouldFish On Games created a wonderfully nostalgic review of The Settlers I which you might want to have a look at.
Several of our wonderful content creators are also active on the The Settlers fan Discord "Wuselworld". So to share your own videos and screenshots or just to talk to fellow The Settlers fans, why not take a look?

NOSTALGIC COMMUNITY ANECDOTE
We've asked many of you to tell us a little bit about your personal history with the The Settlers series, about fond memories, funny anecdotes and more. Today we want to feature moin_moin_2018's memories:
When the first part was released I must have been 12 or 13 years old. We didn't gave a PC yet, back then so about 2 to 3 times a week I cycled 10 kilometers to my friend's place just to watch him play The Settlers 1.
When The Settlers 2 released I had my own PC. A 486, DX2/80, with turbo mode as well as a double speed CD drive. The CD drive made me quite popular at school 😉
The second game I played for ages but the thing I still remember today was a this strange situation with one of my mines. One my gold mines ran out of resources and usually you tear it down and move on. Don't remember why but I forgot to tear it down. And after a while I again received the message that it was depleted. I was surprised about getting another message about the same mine and just watched it for a bit. A little bit later food was delivered and the settler really went down into the shaft and brought new gold with him. Even though the mine was said to be empty.
After a few new gold deliveries I again received the "mine depleted" message. And well, I waited again until food was delivered and again he started bringing new gold to the surface.
Unfortunately, this was my only mine with this strange function. All others worked normally and were indeed depleted at some point.
Don't know why this memory stuck with me for such a long time but it was pretty cool.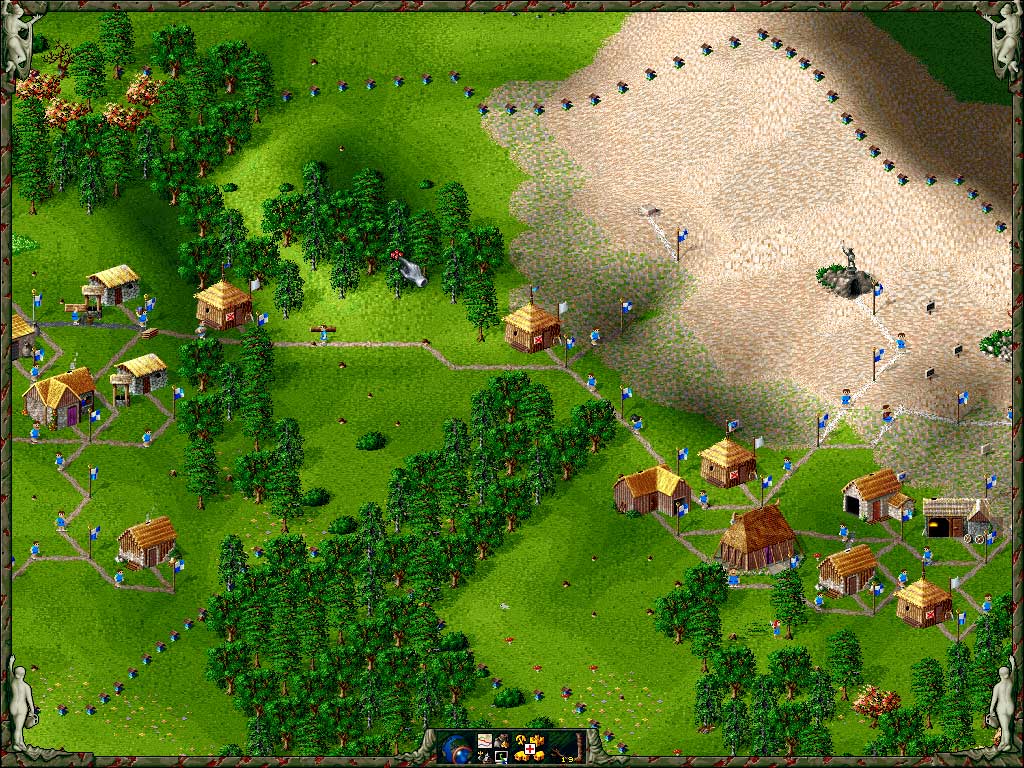 NOVEMBER OUTLOOK
As we said at the very beginning of this blog, November will focus on the History Editions, celebrating The Settler's 25th birthday!
That's why we decided to not publish any new Dev-Blogs about the upcoming The Settlers but instead provide lots of content around part 1 to 7. Get ready for useful guides, several history streams by the community team and of course lots of nostalgia.
The very first stream with Ubi-Barbalatu and Ubi-Thorlof will happen on the 31st of October. They will try their best to build a proper settlement in The Settlers 1 – more details to follow. In November we'll then have several more streams which we'll announce soon. Stay tuned for more info!

We're always happy to hear about your The Settlers stories and anecdotes in the comments and discuss with you the pros and cons of roads, the differences between The Settlers 3 and 4 and why carriers are the unsung heroes of the series.
And if you got an amazing community project you want to introduce to us, are working on magical The Settlers videos or creating cool, funny or simply stunning fan art then mail us at thesettlers-community@ubisoft.com and we'll feature you in our next blog.
3 Comments