It's been almost four months since we announced The Settlers at gamescom in Cologne. And wow, some really busy and exciting 4 months these have been.
With the year coming to an end we want to use this opportunity to recap what has happened so far and give a small glimpse at what's coming next year.
ANNOUNCEMENT & GAMESCOM
The 21st of August, the big day: The Settlers creator Volker Wertich and Blue Byte Managing Director Benedikt Grindel not only announce the re-release of The Settlers 1-7, celebrating the series 25th anniversary, they also revealed something completely unexpected: A new The Settlers game.
And for everyone attending gamescom we presented the first live gameplay of an early alpha version in a hands-off presentation at the Ubisoft Business Center and in the Ubisoft Lounge.
THE SETTLERS ALLIANCE & THE FIRST FAQs
Together with the announcements we launched the The Settlers Alliance, that's…well, the place you're reading this right now. We started by providing some first info about the new The Settlers and about the The Settlers History Editions which released on the 15th of November.
Since we received a lot of questions and feedback right during and after gamescom, we sat together with Volker Wertich and got some answers to the most pressing ones which we then released in two separate FAQs – FAQ #1 & FAQ #2
After this, we started with articles to specific topics about the new The Settlers. Let's recap what we revealed so far:
WYSIWYG – What you see is what you get
What makes a The Settlers game a The Settlers game? One of these key elements we identified was "WYSIWYG": Everything that happens in the game is visualized. This for example means you can watch a tree's life-cycle from start to finish, from a growing sapling to processed planks.
Lead Game Designer Christian Hagedorn describes it as follows:
The goal of WYSIWYG is for players to be able to understand, without indicators, what the game is about.
TRANSPORT
Since the very first The Settlers, logistics have been a central aspect with great importance to your economy.
In the new The Settlers you'll start with carriers taking care of transporting goods even without roads. But building them will speed up your carriers, while higher level roads will also enable you to use vehicles. Pull, donkey and ox carts can carry multiple goods at once and will be vital later on to ensure a smoothly running economy and timely deliveries.
THE FOOD & STAMINA SYSTEM
One important thing to keep in mind when starting a new game in The Settlers is that all your workers will need food. Hungry workers will stop working until they are supplied and following our "What you see is what you get" approach, you will see that:
Your settlers will then get all required goods for a meal from the market place and go back home, to cook a tasty dish they deliver to the workers.
Higher quality meals require more ingredients but also provide more stamina to your workers, meaning they can work for longer without another break.
OUR SOCIAL MEDIA CHANNELS & COMMUNITY UPDATES
Aside from these blog articles you were able to find a lot more content over on our social media pages:
From September on we posted small teasers about different game mechanics together with some screenshots. In November, leading up to the release of the History Collection we provided you with some (fun) facts about the previous The Settlers titles.
Now it's December and our Christmas event is already running for a while. There're just 5 days left, so make sure to check it out before it's too late.
And let's not forget: Our community updates! These articles are focused on you, the community: We're highlighting content creators who are streaming the The Settlers games, creating videos about them, creating cool new maps or organise something like the Fan Discord "Settlers Wuselworld". In addition we update you on new events and feature interviews with guys like Keralis, a YouTuber with a focus on strategy, management and build-up games – more to come!
This means: If you're working on any kind of content involving The Settlers, be it videos, streams, fanart, maps or cosplay (is there The Settlers cosplay? If not, this is your chance!) send us an email at thesettlers-community@ubisoft.com to get featured in a future blog.
HISTORY EDITION NOVEMBER
In November we let the new The Settlers rest for a bit because we had something else to focus on:
The release of the The Settlers History Editions on November 15th!
This also meant we provided you with a lot of content involving the old The Settlers games:
Several nostalgic streams over on the Blue Byte Twitch channel with members of our community team
Guides and tips on how to get started in The Settlers 1-7 and how to create your own skirmish map
A two-part nostalgia trip through the history of the series with many anecdotes from you, the players and veterans of the series [Part #1] [Part #2]
Interviews, screenshots and more
Thanks to all your feedback following the release, we have also been able to iron out a few issues and overall smoothen the The Settlers experience for everyone. We're not done yet and still got a few things we're working on – especially to make the still active multiplayer community all-around happy.
POPULATION SYSTEM
After a nostalgia-themed November we focused on the new The Settlers again – and on a rather important topic: Your Settlers population.
To get new Settlers you will have to build a harbor. Your harbormaster will then sail out to unknown lands and look for new settlers willing to join you. A prosperous settlement will be able to produce special goods like coins which are used to convince people to join you.
After arriving at your settlement they take up different jobs like worker, carrier and soldier, distinguishable by their coloured vests.
DIRECT ACTIONS
Direct Actions are a new feature in The Settlers allowing you to temporarily boost your production or help you overcome bottlenecks in your economy until you've solved the problem. If your carriers are idle for a while they will accumulate motivation points.
These can be used for Direct Actions: Sending a few of your idle carriers to chop down trees, collect some berries or mine some coal. Additionally you can send them to production buildings like the carpenter, to help out for a while which speeds up the production of bows.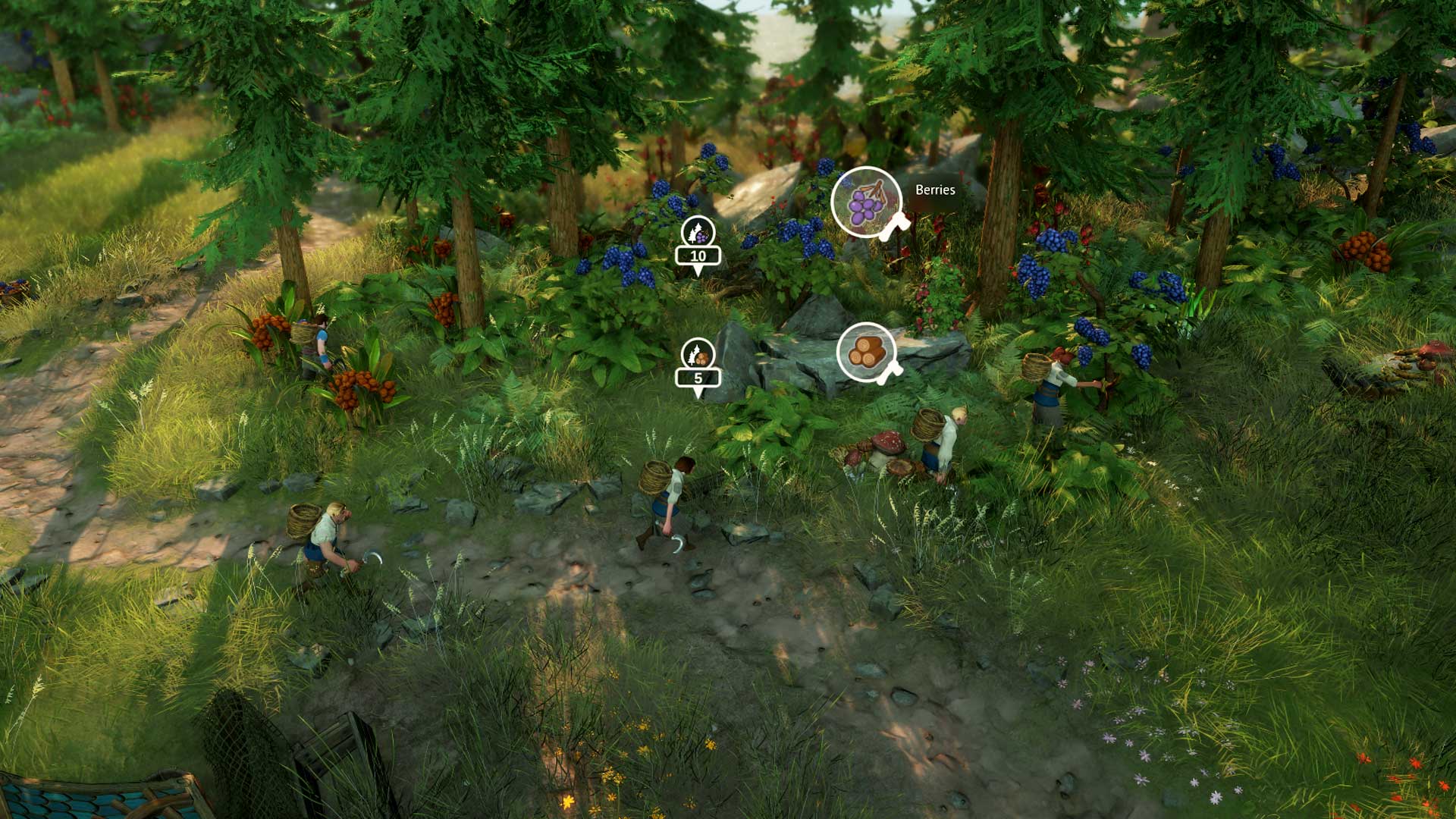 Well, this was 2018 for The Settlers. Those were some really exciting months for us and we're extremely happy to have received such positive feedback from all of you during this time. We know there are a lot of things you're curious about, a lot of unanswered questions, but be assured we'll have a lot more to share in 2019: More gameplay videos, details regarding the military and…playtests? Thank you all for the great support and stay tuned for more.
In the meantime, make sure to not miss out on the last days of our Christmas event over on Facebook, there're only 5 days to go!
As you might imagine the The Settlers team is taking a break over the holidays, celebrating with friends and family and just getting some needed rest. We'll be back for you in early January with more details on what to expect in 2019.
Your The Settlers Team