Durante este periodo, The Settlers 3 History Edition estará disponible de forma gratuita para que tengas la oportunidad de probar el juego durante tiempo limitado. Hasta el 12 de enero de 2020 podrás descargar y jugar el juego completo mediante Uplay, con todos los añadidos y el multijugador incluidos.
La tercera parte de la serie The Settlers, con Volker Wertich como director creativo, salió a la venta en 1998. Incluía 4 razas distintas y, por primera vez en la saga, el maná como un recurso que te permitía invocar dioses para solicitarles ayuda. En muchas de las campañas de la historia podías recrear competiciones entre los dioses antiguos para evitar un horrible castigo.
Además, The Settlers 3 History Edition ofrece varios mapas de escaramuza para combatir contra la IA y para el modo multijugador.
¡La comunidad también ha puesto de su parte con una gran variedad de mapas creados por los usuarios gracias a nuestro editor!
Si nunca has jugado a The Settlers 3 o si llevas tiempo pensando en comprarte The Settlers History Edition, esta es una gran oportunidad para empezar.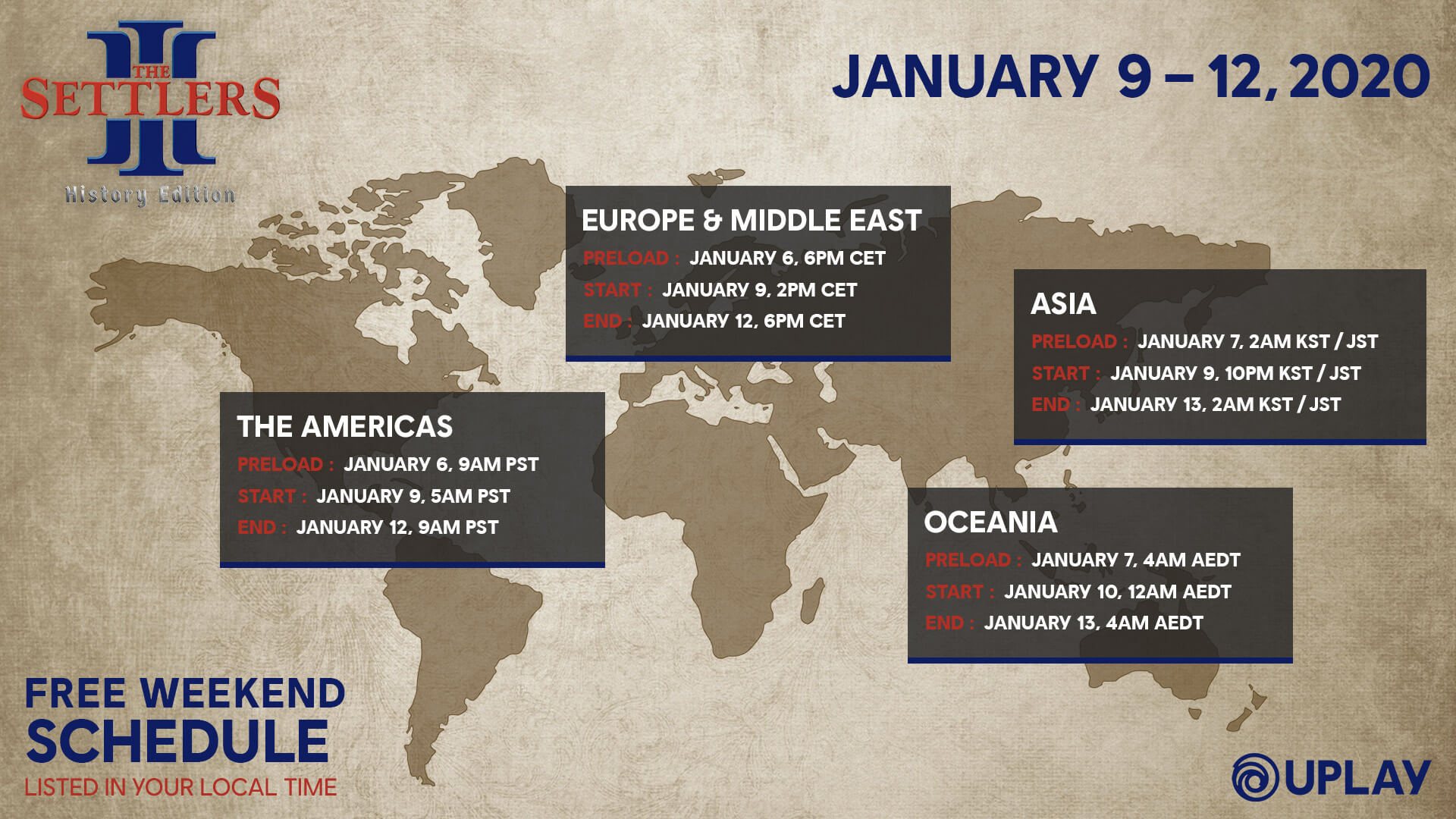 Comparte tus experiencias con nosotros en Twitter, Facebook o en los comentarios de más abajo.
Aviso legal:
*Este software forma parte de una versión gratuita de fin de semana de The Settlers 3 History Edition, jugable entre el 9 de enero de 2020 a las 18:00 CET y el 12 de enero de 2020 a las 18:00 CET. Esta versión gratuita se proporciona TAL CUAL y es posible que no contenga el mismo contenido que la versión completa/final, que funcione de forma imprevista y que se cuelgue. Ten en cuenta que también podría tener lugar un mantenimiento en cualquier momento de este periodo, lo que te impediría acceder a ciertas partes del juego o a él por completo durante este fin de semana gratuito.
Quick Links:
Leave a Comment